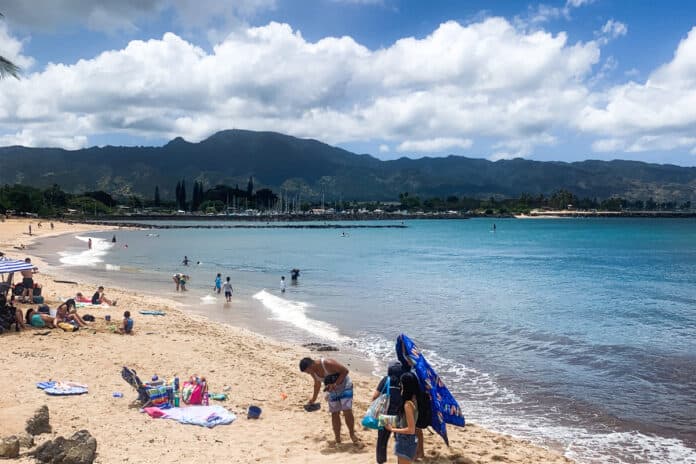 Basically the first beach you get to when you drive across Oahu to the north shore. The north shore is know for being the undeveloped surf haven. Of all the north shore though, this is the most "developed" and happening area as it's directly next to the town of Haleiwa.
Don't think of it as a town though as the population is only about 4,000. Most famous as an amazing lunch spot for food trucks or place to take beginner surf lessons or paddle board in the protected bay.
When visiting the North Shore of Oahu you can't help but drive immediately by, worth a stop though you will be greeted by throngs of people.
There are a lot of great north shore beaches and I don't want to say this is the one you should spend the day at, but if you are eager to get out of the car after likely being slowed down in traffic great for a stop.
Also, there a large World War II memorial in the park.
Haleʻiwa Beach Park Quick Info:
Other Names: Haleiwa Harbor, Haleiwa Alii Beach (adjacent)
Known for: numerous water sports and activities, paddle boarding, WW2 memorial, and food trucks
Good for: sunsets & water sports
Not so good for: avoiding crowds
Facilities: restrooms, showers, picnic tables, bbqs
Lifeguards: yes
Parking: paid parking that is very difficult to find
Cost: free, just not parking
Hours: technically closed 10 pm to 5 am
Available Tours: North Shore Day Trip tour stops at Haleiwa beach for snorkeling!
Where is Haleʻiwa Beach located?
This is the first beach you come to on the North Shore of Oahu.
The beach is located in town of Haleiwa. The town itself only has about 4000 people, but it is set up as the busiest hub of the north shore. This is where the most restaurants and shops are.
There are also quite a few tours in the area. Check them out here if you're interested.
Don't want to deal with the hassle of renting a car on Oahu? I recommend renting out a Hawaiian Style Moped for the Day! (Much easier to find parking.)
Tip: When in Hawaii I highly recommend renting a car to get the most out of your experience. It would be difficult to see all the beautiful places in Hawaii without a car. Reserve a car here.
How to get there?
It takes about 45 minutes to get here from the airport, but traffic can make it much longer.
If you are coming from Waikiki it can take you as long as two hours in traffic though the distance isn't that far. To beat the traffic I highly recommend starting early.
There is only one road that comes across the island to get here. You could drive all the way around the shore of the island to the east, but that would take you much longer.
What can you expect at Haleʻiwa Beach Park
The entire Haleiwa Harbor is going to be crowded with people. Most will be waking around rather than lounging on the beach. Of all the beaches, this one isn't a clam one to lounge on.
The harbor has a protected area where you will see a lot of stand up paddle boarders. You can rent your own here.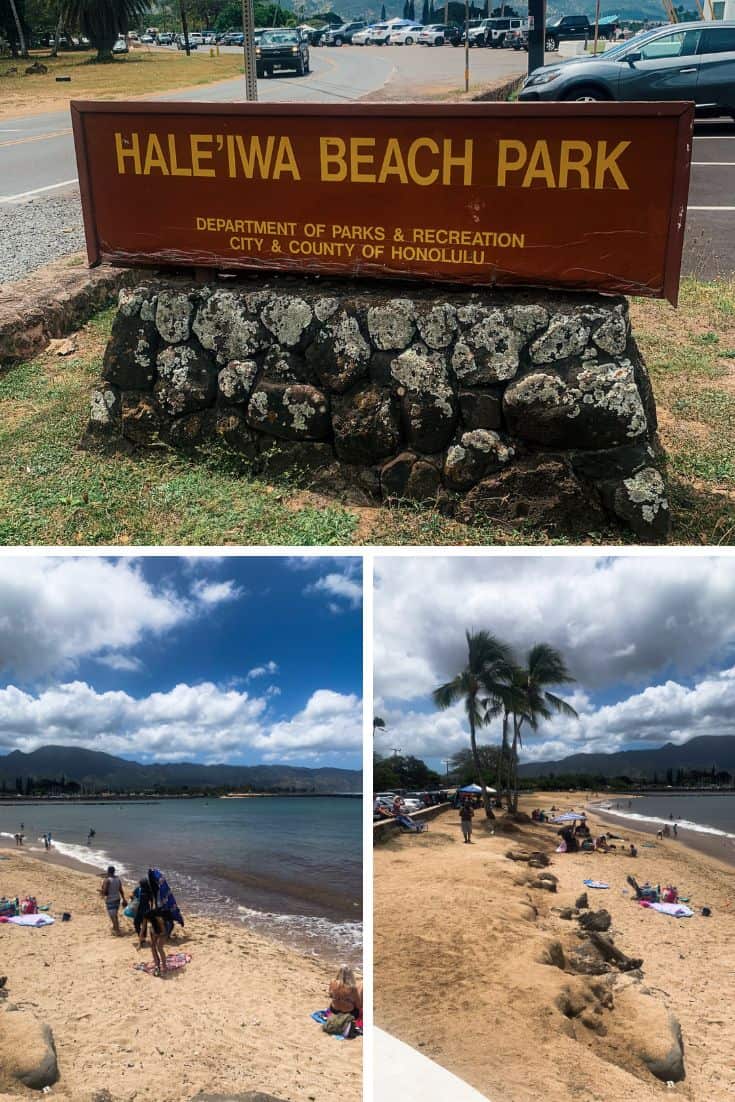 Facilities
The area has all the facilities you would need, except ample parking! The few metered spots fill up quickly. There are a lot of people circling for spots so that they can walk back to the food trucks.
There are restrooms, showers, lifeguards, and picnic tables.
For the people dying to try Matsumoto's Shave Ice, arguable the most famous shave ice stand on the island, know that it is located right here!
World War II memorial in the park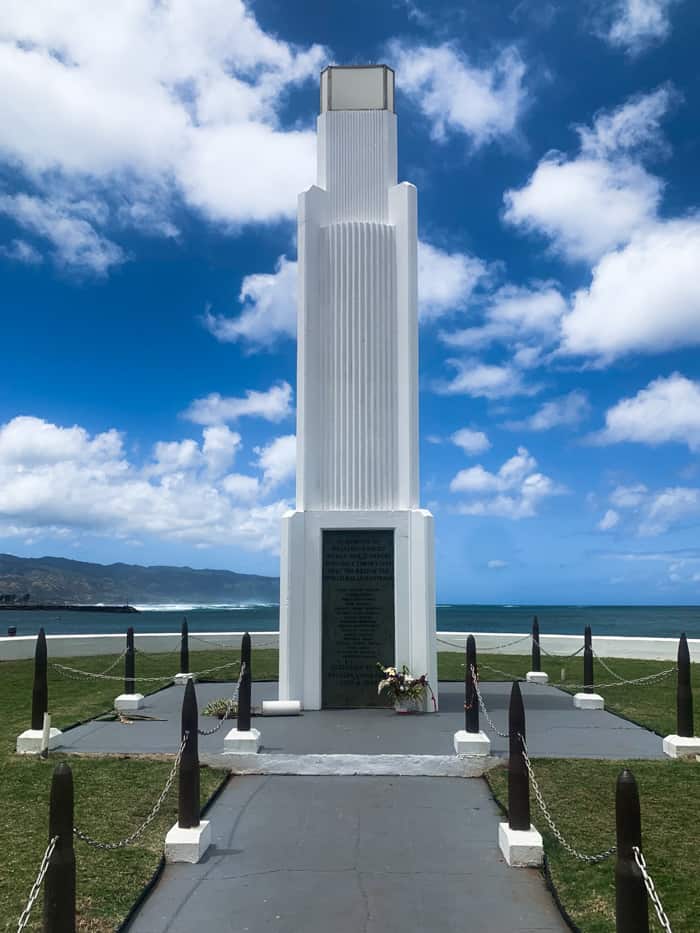 Tours in the Area
Top Haleiwa Beaches
Here are the top Haleiwa Beaches you should know about before visiting.
Waimea Bay Beach Park – Awesome cliff jumping beach
Ehu Kai Beach Park (Banzai Pipeline) – Insane waves! Great for surfing in the winter months.
Ke Waena Beach
Pupukea Beach Park
Top Attractions in Haleiwa
In order from most popular to least:
Waimea Bay – Awesome cliff jumping beach
Waimea Valley – so much to do here
Turtle Beach –
Haleʻiwa Beach Park – hope our post was helpful! Ask any questions you have below. We'll be happy to answer!
Conclusion: Is Haleiwa Beach Park Worth Visiting?
While this isn't a beach I want to lounge on, it does make a perfect lunch diversion if you can find a parking spot!
Planning a trip to Oahu? Read more of our Oahu blog posts below!
My husband and I have been to Oahu many times and have written up more blog posts to help you plan your trip. These are my most popular blog posts and Hawaii travel guides to help you plan your trip.
Best Things to do in Oahu
Oahu Beaches
Best Cliff Jumping in Oahu
Best Snorkeling in Oahu
More Hawaii Blog posts: